Let Marie-Therese de Souhiran be our guide as we follow Jesus along the Way of the Cross
JESUS IN AGONY IN THE GARDEN OF GETHSEMANE
"It will be very difficult to find a place… If then there is no such possibility open to me, there
remains a third way. This one would be very painful
for me, that of going I know not where… our Lord will not abandon me, and I shall always have
my heart to love him without measure and to lose
myself more and more in him."
[/Texts:"Spiritual Writings" of Marie-Therese de Soubiran, p.62-63 (2nd March 1874)./]
JESUS IS CONDEMNED TO DEATH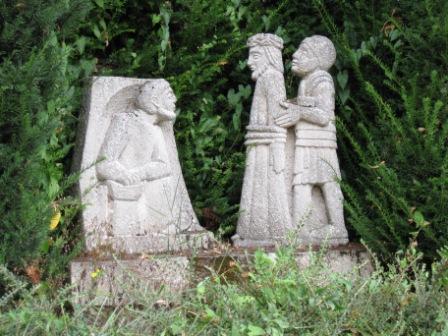 "What more could I ask for, then, than this extreme
bitterness with which you nourish me, this taste of death
with which you fill my soul and which is constantly at
work within me, putting an end to my personal life by
revealing the true reality of all things?"
[/idem. p.126 (25th February 1880)/]
JESUS IS MADE TO CARRY HIS CROSS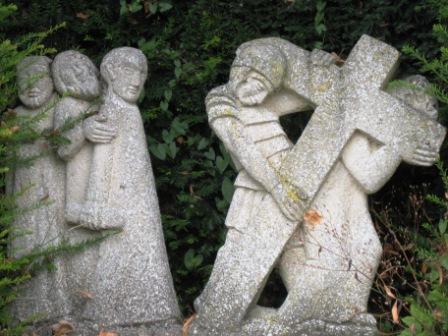 "Like a little hand in a big one. The big one does
everything for the little one. It is its strength and its
movement. The little one is carried, enclosed by the
big one; they form but one hand so to speak; so are
my heart, my mind, my soul in our Lord Jesus Christ."
[/ idem. p.142 (14th September 1880)/]
JESUS FALLS THE FIRST TIME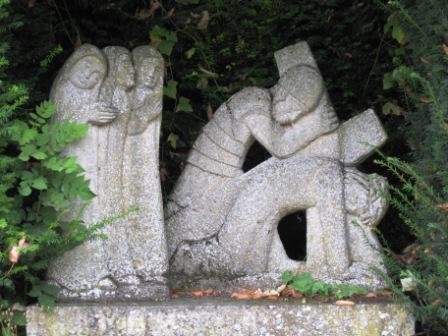 "Abandoned by ail those I loved and in whom I had
put all my confidence, I was cast out without shelter,
accused of being responsible for the whole catastrophe,
blamed by everyone for all the ills about to fall on
M.A.; I was obliged to keep silence and to allow the
whole weight to rest upon myself alone."
[/idem. p.22 ("Love and Mercy" 8)
/]
JESUS MEETS HIS SORROWFUL MOTHER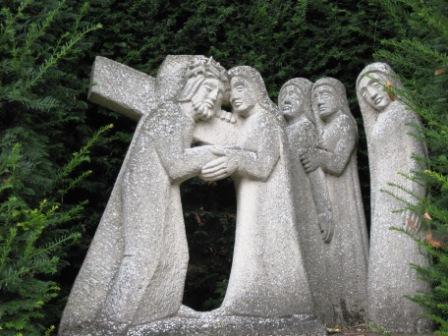 "I made a vow that: 1) we should all bear the name of Mary; 2) there
should always be a statue of Our Lady in the chapel
of every house; and 3) Our Lady should be recognized
as the Superior of this little Society.
From that time on everything began to go smoothly
both within and without."
[/idem. p.14 ("Love and Mercy" 5)
/]
SIMON OF CYRENE HELPS JESUS CARRY HIS CROSS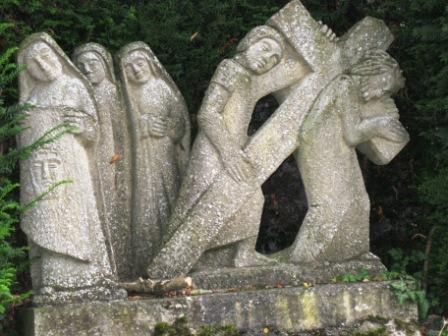 "The burden of souls is the greatest pain of all and
can be understood only by one who has experienced it;
beside it everything else in life is of little account."
[/idem. p.22 ("Love and Mercy" 8)
/]
JESUS FALLS THE SECOND TIME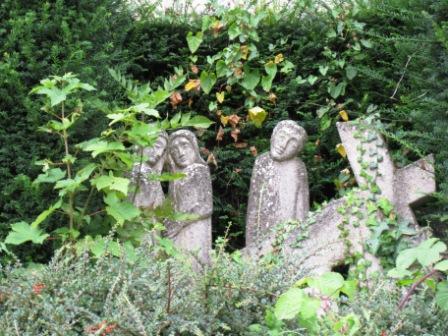 "I adored profoundly and loved this will which was
crushing me and I realized that there were great
treasures hidden there for me. During all this time of
suffering, prayer was a comfort to me; I was so hungry,
so cold, so frightened … I cried out for mercy
and pity . . . And my soul emerged consoled and
strengthened and in a deep though bitter peace."
[/idem. p.60 (2nd March 1874)
/]
JESUS IS STRIPPED OF HIS GARMENTS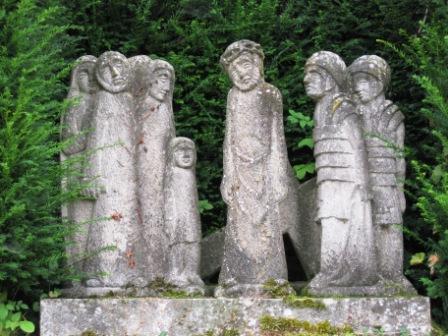 " I am then released from all responsibility and, as it were, set free in every respect. I am alone. That is to say everything has been removed from me. God alone knows what he will give back or take from me forever. I am happy and at peace in his adorable hands"
[/ idem. p.61 (2nd March 1874)
/]
JESUS IS NAILED TO THE CROSS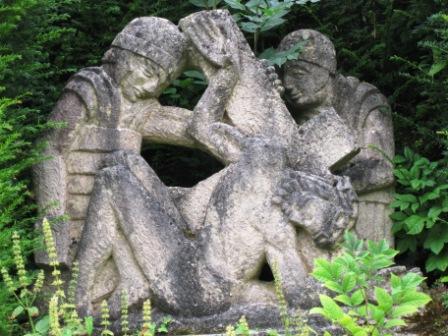 "'My joy lies in being close to God. To adhere to
the Lord does not only mean to think about God.
Thought is vain, fragile, passing like time to which it
belongs.
It is then much more than thinking . . . It is being
attentive to God, with the constant attention of faith, of
reverence, of confidence and of love. Greatly superior to
anything passing, it outweighs everything.
"
[/idem. p.101-102 (March 1879)/]
JESUS IS RAISED UPON THE CROSS AND DIES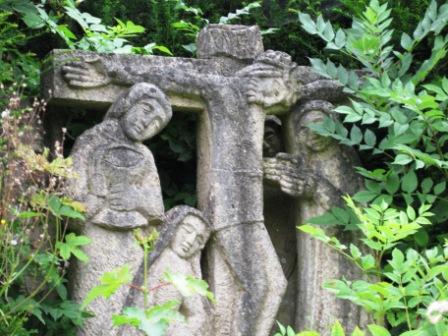 "Here I am before you, O my God….Before your majesty, your love, your almighty power
Before you in whom everything exists and apart from
whom is nothing, nothing but emptiness and sin.
Before you, alone and poor, destitute in myself and
by myself, in every creature and by every creature.
Before you, rich in poverty and misery and nameless
cowardice. Before you, but by your grace alone, here I am
wholly, with all my spirit, ail my heart, all my will"
[/idem p.106 ( 18th October 1879)
/]
JESUS TAKEN DOWN FROM THE CROSS AND PLACED IN THE ARMS OF HIS MOTHER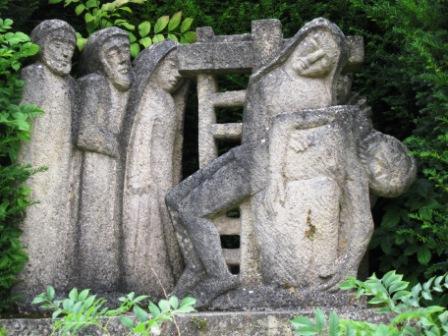 "Only death makes it possible for us to live the life
of God in a stable and permanent way and with all the
plenitude that God desires for the work of his hands.
… it alone is the gateway to true life, the life of God living in us, of us living in him and by him."
[/idem. p.106 (4th December 1880)
/]
JESUS IS LAID IN THE TOMB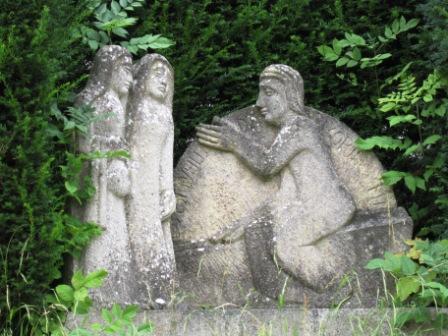 "Ah, Lord, are we then to believe in so much love?
Our joy is the joy of your heart. Your love is such that
our good becomes your good, you take pleasure in
using your power to please us, to do what is good for
us, to give to us who are the work of your hands, the
hundredfold even in this life.
…
But, my God, you desire even more than that. You
want your life and mine to become one, or rather that
my life should merge into yours and be lost in it; that
in divine familiarity and intimacy, at the core of my
being where you dwell, you might be everything for
me….
Lord, may I eternally exalt, bless and praise your
greatness, your love, your power and lastly your boundless
mercy towards the work of your hands."
[/idem. p.185, p187 ("Prayer of Thanksgiving, Confidence and Love" 1881).
/]
[//]
Pictures: Sanctuaire Notre-Dame de l'Épine (France) ©Marie Auxiliatrice