Sr. Mary Marcelle died in our nursing home in France on 30th August just a few weeks after her 94th birthday.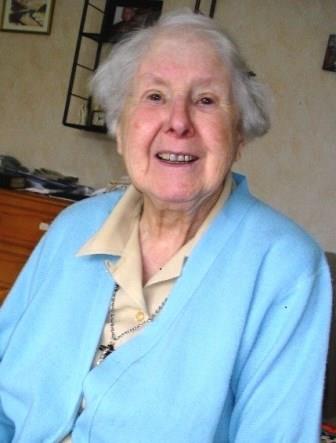 She was born in France but her parents moved to England shortly after her birth. This is where she grew up and where she later came to know the Sisters of Marie Auxiliatrice through their school in Finchley, North London.

When she heard and responded to the call to religious life, she returned to France for her early formation in the Congregation.

By the time she made her final Profession, it had been decided to open a house of formation in London and Sr. Mary Marcelle became the first novice directress in the English-speaking novitiate. She carried this responsibility for all of eighteen years from 1954 to 1972.

The English and Irish novices of several generations and their families never forgot her remarkable humanity, her kindness and warm hospitality, the same warmth and hospitality she demonstrated when, in later years, she returned to Paris and was responsible for receiving the guests of the community, sisters, families and friends. How often she took the liberty of interpreting the criteria with flexibility, welcoming complete strangers or tourists whom she found herself unable to refuse as long as there was a vacant bed!

When the Novitiate moved to Killiney in Dublin in the wake of Vatican 2, the life style was less rigid and institutional and she was able to give free rein to her creativity. She invited the parents of the novices to "Aughnacloy" for a holiday. Thanks to this happy initiative, long lasting bonds were created between the families, who never forgot the warmth of her welcome.

In her latter years, when her health deteriorated and her memory went, she never lost her welcoming smile, her serenity…nor her English!

She is surely receiving her reward for all the good she did during her long life. It is now her turn to enjoy the hospitality of the Father's house.
Please share your memories of Sr. Mary Marcelle with us.