On a visit to Ireland from her mission post in Bafoussam, Cameroon, Sr. Genevieve Marie Perret shares her experience of a prayer celebration in Glendalough, marking the closing of the year of prayer for vocations.
Under the sign of the Covenant
It was highly symbolic that, after a brief shower of rain, a magnificent rainbow appeared, the sign of the Covenant and of God's faithfulness. Then, without getting wet, we were able to make our way to the meeting place by the upper lake of Glendalough, a holy place dating from the early Christian Church in Ireland.


St. Kevin in search of the Invisible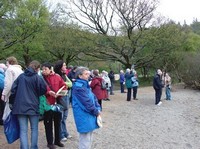 After a word of welcome, we were invited to greet one or several people whom we did not already know. (I had plenty of choice here!). Then we set out to walk to a spot just opposite what is known as "St. Kevin's Bed". Here Sr. Catherine led us in a meditative reflection on what this cave represents, where Kevin spent most of his life as a hermit. A young man in search of the absolute, leaving aside everything that might hamper him in his quest for God, Kevin came to this wild and lonely place of solitude that speaks of God and of oneself.
In silence we continued our walk along by the peaceful lake, shining in the glow of the setting sun.
Launch out into the deep
We listened to the Gospel of Luke, the call of the first disciples. Then a small group came forward to place a fishing net at the edge of the water, while the words of Jesus: "Launch out into the deep and put out your nets" resonated in several languages as various participants spontaneously took the microphone.
I was surprised to discover that there were at least ten different languages amongst the hundred or so participants. The members of a Philipino choir were there with their musical instruments, from a keyboard to a gong and these no doubt represented several local languages.
In the communion of saints and martyrs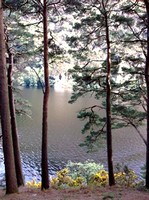 The final stage of the pilgrimage took us into the ruins of the ancient chapel where St. Kevin is thought to be buried. We entered in procession while the choir sang the litany of the saints, a litany that included many saints of Ireland as well as modern day martyrs such as Oscar Romero, Msgr. Pierre Claverie, the martyrs of Tibherine etc.
The celebration ended with intercessions to the Lord of the Harvest and the special candles of the year of prayer for vocations were distributed. This year of prayer was ending on this, the fourth Sunday of Easter.
The light shines in the darkness
We were invited to light the candles in our own places of mission, the fragile but tenacious light of the risen Christ, a flame carried high by St. Kevin in the past, a fire that continues to light up the world today.
(Sr. Genevieve Marie Perret, Sr. of Marie Auxiliatrice)